About the Lectures
The Steven and Janice Brose Distinguished Lecture and Book Series in the Richards Civil War Era Center was established in 1998 and originally supported a single lecture by a distinguished visitor. The Broses added to the endowment in 2001, allowing a distinguished lecturer to deliver three related lectures over three days. The Broses' generosity also enabled the Richards Center to enter an agreement with the University of North Carolina Press, which publishes the lectures as part of a series of scholarly monographs with the Richard Center Director serving as series editor.
In order to share this work with the public and the greater academic community, the Richards Civil War Era Center has partnered with the University of North Carolina Press to publish expanded versions of these talks. Richards Center Director Emeritus William Blair is the founding editor of the series. Richards Center Director Rachel Shelden is the series editor.
About the Broses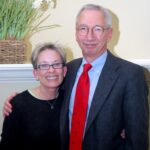 Steven H. Brose is a 1969 honors graduate in political science from Penn State and earned an M.A. in history from George Washington University in 2013. He received his J.D. from Columbia Law School and has spent his legal career with the international firm Steptoe & Johnson in Washington, D.C. His practice focuses on federal regulation of the energy industry, with emphasis on transportation issues for companies throughout the United States and Canada. He has served as an adviser to the governments of Ecuador and the Republic of Georgia and assisted the World Bank in its effort to open the Russian oil pipeline network to foreign investment and access. Steve is the 2004 recipient of the Service to Penn State Award from the College of the Liberal Arts Alumni Society and was designated a Centennial Fellow at the 2009 Centennial Celebration of the College of the Liberal Arts. In 2014, he was named a Penn State Distinguished Alumnus. He is a former chair of the college's Development Council.
Janice Brose attended Penn State for two years before earning a bachelor's degree in anthropology from The City College of New York. She later received an associate degree in nursing with certifications in Rehabilitation Nursing and Case Management. She is an avid birder and fond grandmother of three grandsons, one granddaughter, and two cats.
In 2019, Steve and Janice received the Chaiken Leadership Award from the College of the Liberal Arts.
Citizens of a Stolen Land: A Ho-Chunk History of the Nineteenth-Century United States

Stephen Kantrowitz

(2023)

Count the Dead: Coroners, Quants, and the Birth of Death as We Know It

Stephen Berry

(2022)

Rites of Retaliation: Civilization, Soldiers, and Campaigns in the American Civil War

Lorien Foote

(2021)

The Second American Revolution: The Civil War-Era Struggle Over Cuba and the Rebirth of the American Republic

Gregory P. Downs

(2019)

Sex and the Civil War: Soldiers, Pornography, and the Making of American Morality

Judith Giesberg

(2017) 

Tales from the Haunted South: Dark Tourism and Memories of Slavery from the Civil War Era 

Tiya Miles

(2015) 

Gregory P. Downs and Kate Masur, editors

(2015)

Making Freedom: The Underground Railroad and the Politics of Slavery

Richard J. M. Blackett

(2013)

With a Sword in One Hand and Jomini in the Other

Carol Reardon

(2012)

Lincoln's Proclamation:  Emancipation Reconsidered

William A. Blair and Karen Younger, editors

(2009)

Gender and the Sectional Conflict

Nina Silber

(2008)

Causes Won, Lost, and Forgotten: How Hollywood and Popular Art Shape What We Know About the Civil War

Gary Gallagher

(2008)

The Civil War as a Theological Crisis

Mark Noll

(2006)

The Boundaries of American Political Culture in the Civil War Era

Mark E. Neely, Jr.

(2005)