In acknowledgement of the unprecedented challenges experienced by graduate students as a result of the Covid-19 pandemic, the Richards Civil War Era Center invites applications for two predoctoral dissertation fellowships in the history of the Civil War Era, beginning July 1, 2023.
The Richards Center conceives of the Civil War Era broadly. We especially welcome projects related to the history of slavery, emancipation, and their legacies and the history of struggles for freedom and democracy in the United States. This is a one-year fellowship for advanced graduate students who are in the writing stage of their dissertation. During their residency, the fellows will have no teaching or administrative responsibilities. The fellows will be expected to make progress on their dissertation and to take an active part in the Richards Center and Penn State's community of researchers.
Application Process and Submission Process
To be considered for this position, submit a complete application packet including a cover letter describing your dissertation project and goals for the year, a curriculum vita, and a list of three references. In the cover letter, applicants may discuss how the Covid-19 pandemic has negatively impacted their dissertation progress. Successful candidates must either have demonstrated a commitment to building an inclusive, equitable, and diverse campus community, or describe one or more ways they would envision doing so, given the opportunity.
We will request additional materials and letters of recommendation from candidates who advance in the search process. Review of materials will begin February 15, 2023 and continue until the position has been filled. Please direct questions about the process via e-mail to richardscenter@psu.edu.
2023-2024 Pre-Doctoral Fellows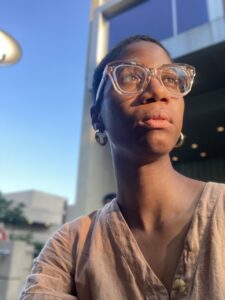 Kirsten Lee is a PhD Candidate in English at the University of Pennsylvania, where she also holds certificates in College and Undergraduate Teaching and Gender, Sexuality, and Women's Studies. Her research interests include abolition, migration, 20th century feminisms, queer theory, Black (cultural) studies and early American literature broadly construed. Her dissertation, "Abolition's Plots: Literature, Speculation, and Black Border/lands in North America, 1763-1886," turns to feminist geographies to understand the narrative technologies of American westward (and failed southward) expansion in the long nineteenth century. By studying speculation as an economic and cultural practice in the nineteenth-century United States, her dissertation theorizes how and why Black nationalist aesthetics and Afrofuturist thought routinely confront the problem of imagining life after, beyond, and without property by pointing to the ante- and postbellum period. Her work has appeared in the journal Early American Literature and in American Literature in Transition, 1770-1828 from Cambridge University Press.
Cooper Wingert is a PhD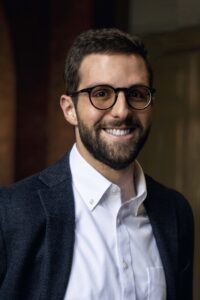 candidate in the History Department at Georgetown University. He is a historian of slavery, federalism, and state-building during the Civil War Era. His in-progress dissertation examines how wartime freedom seekers and Union army provost marshals navigated civil-military tensions and brokered emancipation in the field, and in the process renegotiated and reinvented federalism in the United States. His scholarship has been featured in the Journal of American History (June 2023) and Civil War History (September 2023). Wingert is also the author of several books including Slavery and the Underground Railroad in South Central Pennsylvania. Wingert currently serves as Assistant Director of the National Park Service project Slave Stampedes on the Southern Borderlands.