In conjunction with the College of the Liberal Arts and the Humanities Initiative Dissertation Release Program, the George and Ann Richards Civil War Era Center will host two Penn State graduate students as Center and Institute Fellows in 2023-2024. Awardees will receive $1,000 in research funds and a one-semester release from teaching or related service. The awardees will continue to receive their regular assistantship stipend during the fellowship period. During the period of the fellowship, awardees will hold the title of Center and Institute Fellows and will become members of the Richards Center's dynamic intellectual community. They will be invited to participate in the Center's events and will have an opportunity to present work-in-progress to the Center's affiliated faculty, post-doctoral and pre-doctoral fellows, and graduate students.
The Center invites applicants in any discipline in the College of the Liberal Arts whose research aligns with the themes of the Richards Center. These include the history and politics of democracy in America; the history and legacies of slavery; the history of race and racism in the United States; and the history of inequality in the United States.
Students who wish to be considered should submit an application packet and an Information Summary Form (available from the Directors of Graduate Studies) to their department. Applications are received by the home department and forwarded to Alena Sunderland at ant106@psu.edu. More information is available on the Penn State College of the Liberal Arts website.
The deadline for receipt of applications is Monday, April 3, 2023, at 5:00pm
Current Center and Institute Fellows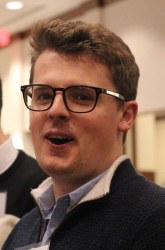 Edward Green is a PhD candidate in the Department of History at Penn State. He is a historian of 19th century North America with a specific focus on Native American and western history. His dissertation looks at nation-building in the American midwest, examining the ways that the Five Nations of Oklahoma and U.S. Americans established, maintained, and contested one another's sovereignty over the course of the nineteenth and early twentieth centuries.