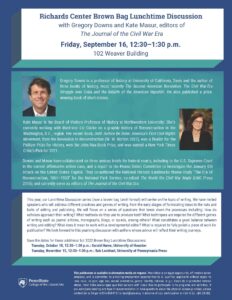 During this Lunchtime Discussion, editors of The Journal of the Civil War Era, Gregory Downs and Kate Masur, will join members of the Richards Center community for an informal discussion about their own research and writing processes as well as their work as journal editors. This event is open to Richards Center affiliated graduate students, pre-docs, post-docs, and faculty. 
Gregory Downs is a professor of history at University of California, Davis and the author of three books of history, most recently The Second American Revolution: The Civil War-Era Struggle over Cuba and the Rebirth of the American Republic. He also published a prize-winning book of short stories.
Kate Masur is the Board of Visitors Professor of History at Northwestern University. She's currently working with illustrator Liz Clarke on a graphic history of Reconstruction in the Washington, D.C., region. Her recent book, Until Justice Be Done: America's First Civil Rights Movement, from the Revolution to Reconstruction (W.W. Norton 2021), was a finalist for the Pulitzer Prize for History, won the John Nau Prize, and was named a New York Times Critic's Pick for 2021.
Downs and Masur have collaborated on three amicus briefs for federal courts, including to the U.S. Supreme Court in the current affirmative action case, and a report to the House Select Committee to Investigate the January 6th Attack on the United States Capitol. They co-authored the National Historic Landmarks theme study "The Era of Reconstruction, 1861-1900" for the National Park Service, co-edited The World the Civil War Made (UNC Press 2015); and currently serve as editors of The Journal of the Civil War Era.