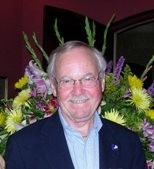 The Arthur L. Welsh Memorial Award is awarded each year to the person who most significantly advances the mission of the George and Ann Richards Civil War Era Center to serve as a national leader in research and outreach for this period of history. The honor remembers the contributions of Arthur L. Welsh, a retired professor of economics from Penn State and avid student of the American Civil War. A naval veteran who served in the Korean War, Mr. Welsh was a pioneering member of the Richards Center and an individual whose wit and grace enriched the pursuit and dissemination of knowledge. The honor comes with an 1878 lithograph of the Penn State campus that features the original Old Main.
2019 Arthur L. Welsh Memorial Award Winners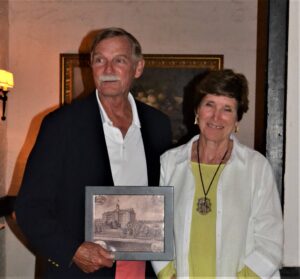 During the Richards Center executive tour in Bermuda, Donna ('67) and Bill Oliver ('67) were presented with the Arthur L. Welsh Memorial Award in recognition of their support for the Richards Center, the Department of History, and the College of the Liberal Arts. The Olivers attended their first executive tour in 2016 at Antietam National Battlefield and have been regular participants since. In 2019, the Olivers partnered with Tracy and Ted McCourtney to create the William L. and Donna F. Oliver-McCourtney Professorship in History. Longtime benefactors of Penn State, the Olivers have created scholarships in the Smeal College of Business and the College of the Liberal Arts and are supporters of the Paterno Fellows Program and the McCourtney Institute for Democracy, where Donna serves as a board member. 
Past Winners
2017 – Laurence and Lynne Brown
2015 – Mark and Ann Persun
2014 – Mark E. Neely, Jr.
2013 – Bobby and Bonnie Hammel
2012 – Susan Welch
2011 – Lawrence J. and Gretchen McCabe
2010 – John and Carol Paulus
2009 – Steven and Janice Brose
2008 – Ted H. and Tracy Winfree McCourtney and Howell and Sondra Rosenberg