UNDERGRADUATES
The Richards Center is deeply committed to undergraduate education, especially introducing Penn State students to the history major and supporting professional development opportunities for students interested in working in the field.
---
Gettysburg and Harpers Ferry Internships
(Closed – Call for applications for summer 2020 internships)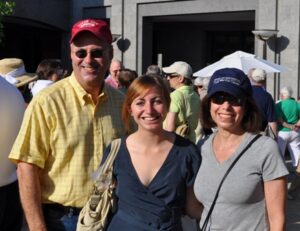 Thanks to the generosity of Larry and Lynne Brown, the Richards Center sends Penn State undergraduate students to intern at Gettysburg National Military Park and Harpers Ferry National Park each summer where they get hands-on experience in public history. At Gettysburg National Military Park interns can work in interpretive operations or in the museum and archives branch. The interpretive operations intern designs and conducts an interpretive program on an aspect of the Battle of Gettysburg, assists National Park Service staff at the information desk, and fields questions from visitors to the park. The primary responsibility of the intern in the museum and archives branch is to perform various aspects of archival and museum management from processing/cataloging, to working with exhibits, answering reference inquiries, and re-housing historic objects. At Harpers Ferry National Historical Park interns can work in interpretive operations or in the education branch. Interpretive operations interns develop programs that cover a variety of important points in Harpers Ferry's history, from its founding, to the creation of the federal arsenal there, John Brown's raid, the town's experiences in the Civil War, and its role in African American education and civil rights in the postwar era. The education division internship is especially suited to Education majors and History majors with an interest in learning effective teaching techniques. This intern develops and leads programs on John Brown's raid and the Civil War for groups of middle school students participating in the National Youth Leadership Conference. Education interns wear period dress and lead students through interactive history exercises, such as manning a Civil War field hospital, or working in a munitions factory. All interns will maintain a journal throughout the summer, recounting their experiences and reflecting on what they have learned from the internship.
Applications for the internships are due in late January and interns are selected in February. Students who are interested in applying for the internship must have a 3.0 grade point average, submit a one-page statement of interest stating why they would like to work at Gettysburg or Harpers Ferry and how they think that experience will further their history education, submit a resume, and provide a letter of recommendation from a faculty member in the Department of History. For more information about these internships, please contact the Richards Center.
Undergraduate Student Spotlight: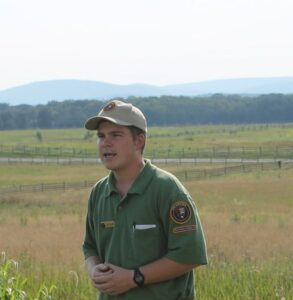 My name is Zach Siggins and I earned my B.A. in History from Penn State in 2014. My history major at Penn State began with a Civil War course taught by Dr. William Blair that sparked an interest in the early American period and the American Civil War. The following year, I took a 400 level Civil War history course with Dr. Blair and knew that I wanted to focus on that period in American History. In addition to the early American period, I developed a secondary interest in the political and economic history of the late nineteen and twentieth century in the United States after taking constitutional history and anti-trust history with Dr. Mike Milligan.
My interest in the Civil War led me to apply for an internship with Richards Civil War Era Center and, through their support, I interned with the Museum Services Division at Gettysburg National Military Park during the summer of 2012. At Gettysburg I worked first hand with artifacts and archival materials from the Civil War Era to the present day history of the park. I enjoyed working with objects of historical value and I had the privilege of working on the digitization of some of the park photo collections and the transcription of a Civil War Era diary into a digital format.
After another year at Penn State, I again applied for a Richards Civil War Era Center internship at Gettysburg National Military Park. I worked with the Interpretation Division of the Park during the summer of 2013 and was able to work in a much more interactive role. It was a significant year for the Park, the 150th anniversary of the Battle, and it was a fast-paced summer from the very beginning. Working with park staff, I wrote and presented two original programs for audiences of visitors to the park, worked with the children's program, and assisted visitors at their busy information desk. It was the experience of a lifetime! It was so much fun to work with people who loved their job and work for visitors to the park who loved the Civil War. It was very helpful for my growth as a speaker and a writer to communicate historical events in a way that was understandable to visitors with different degrees of background knowledge. The personal highlight of the summer was getting to present a program during the 150th battle anniversary commemoration and participating in the Pickett's Charge commemorative march that drew thousands of participants.
Coming back from a summer at Gettysburg I knew I wanted to continue to study the political roots of the Civil War Era and the military history of the War. I had the privilege of studying constitutional history with Dr. Mark Neely and American military history with Dr. Carol Reardon. These courses, along with prior Civil War courses by Dr. Blair, cemented the Civil War as a history related passion and subject for study.
At Penn State I was given multiple opportunities to test careers in the field of history. I have a desire to work in the field seasonally with the National Park Service. I am currently in the M.Div. program at Westminster Theological Seminary, preparing for work in pastoral ministry. My Penn State education and history degree have prepared me well for working in fields that require making complex events and arguments understandable and enjoyable.
Department of History/Richards Center Alumni Spotlight
Kristen M. Campbell, Gift Planning officer, Dartmouth College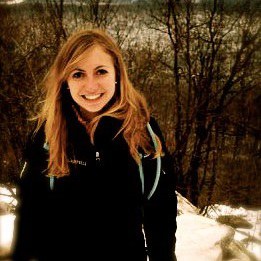 I am an M.A. student and Gift Planning officer at Dartmouth College. Prior to coming to Dartmouth, I was a Stewardship Officer at Penn State, where I focused on promoting donor stewardship by designing and developing learning materials for an innovative home-grown web program that supported Penn State's development professionals. Every day, as a graduate student and gift planning officer, I rely on skills I gained while a student at Penn State. The writing and editing skills I developed as a liberal arts student are invaluable when writing complex manuals and graduate seminar papers. I learned how to be an effective instructor and public speaker through my internship with the Richards Civil War Era Center, where I presented public programs on U.S. History at Gettysburg National Military Park. After meeting the donors who had sponsored this internship, I was inspired to learn more about non-profit fundraising. I am fortunate to now have a career where I work with staff and alumni on projects that ensure future opportunities for college students.
Daniel James Flook, Historian, 99th Air Base Wing, Nellis AFB, USAF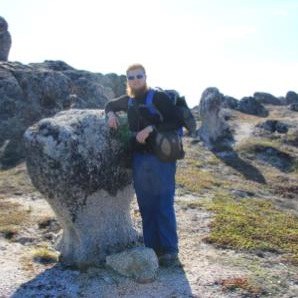 I am employed by the United States Air Force as the historian for the 99th Air Base Wing at Nellis Air Force Base. Previously, I worked at Gettysburg NMP for a total of 11 summers as an interpretive park ranger, completed a year term in AmeriCorps VISTA as a historian with a non-profit heritage tourism organization in southern West Virginia, and worked for the Bureau of Land Management as an interpretive park ranger. Before becoming the historian at Nellis AFB, I was a historian for the National Register Initiative in the Alaska Regional Office of the National Park Service. I was responsible for completing nominations to the National Register of Historical Places for various historic sites on NPS property in the state of Alaska. Projects included fishing cabins, trapping cabins, an NPS visitor center, and an Inupiat sacred site. The research and writing skills that I honed while writing my honors thesis at Penn State are an integral part of my job today. The Richards Civil War Era Center introduced me to the possibility of a National Park Service career by making me the first intern from the center to work at Gettysburg National Military Park, where I later took a job as a seasonal interpretative ranger for eight summers.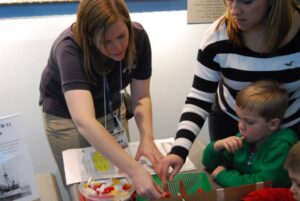 I am currently the Deputy Director of Education at the Hampton Roads Naval Museum (HRNM) in Norfolk, Virginia. I spend the majority of my time at HRNM writing, designing, and conducting educational programs for K-12 students, adult groups, and local military commands. In addition to the educational portion of my job, I also run all of HRNM's social media, plan special events, and train new museum volunteers. The Richards Civil War Era Center gave me my first opportunity to experience public history with a summer internship at Gettysburg National Military Park. This internship helped me decide to pursue a career in public education after graduation. I went on to attain my M.A. in Museum Studies from the University of North Carolina at Greensboro (UNCG), and during my last semester at UNCG, I started work at Stratford Hall, the home of the Lees of Virginia and birthplace of Robert E. Lee, as the Director of Interpretation and Education. I subsequently moved to Norfolk and started at the Hampton Roads Naval Museum. The research, writing, and public speaking abilities I developed as an undergraduate at Penn State have been integral to my career in public history.